Chaplain assistant works on 'most complex weapons'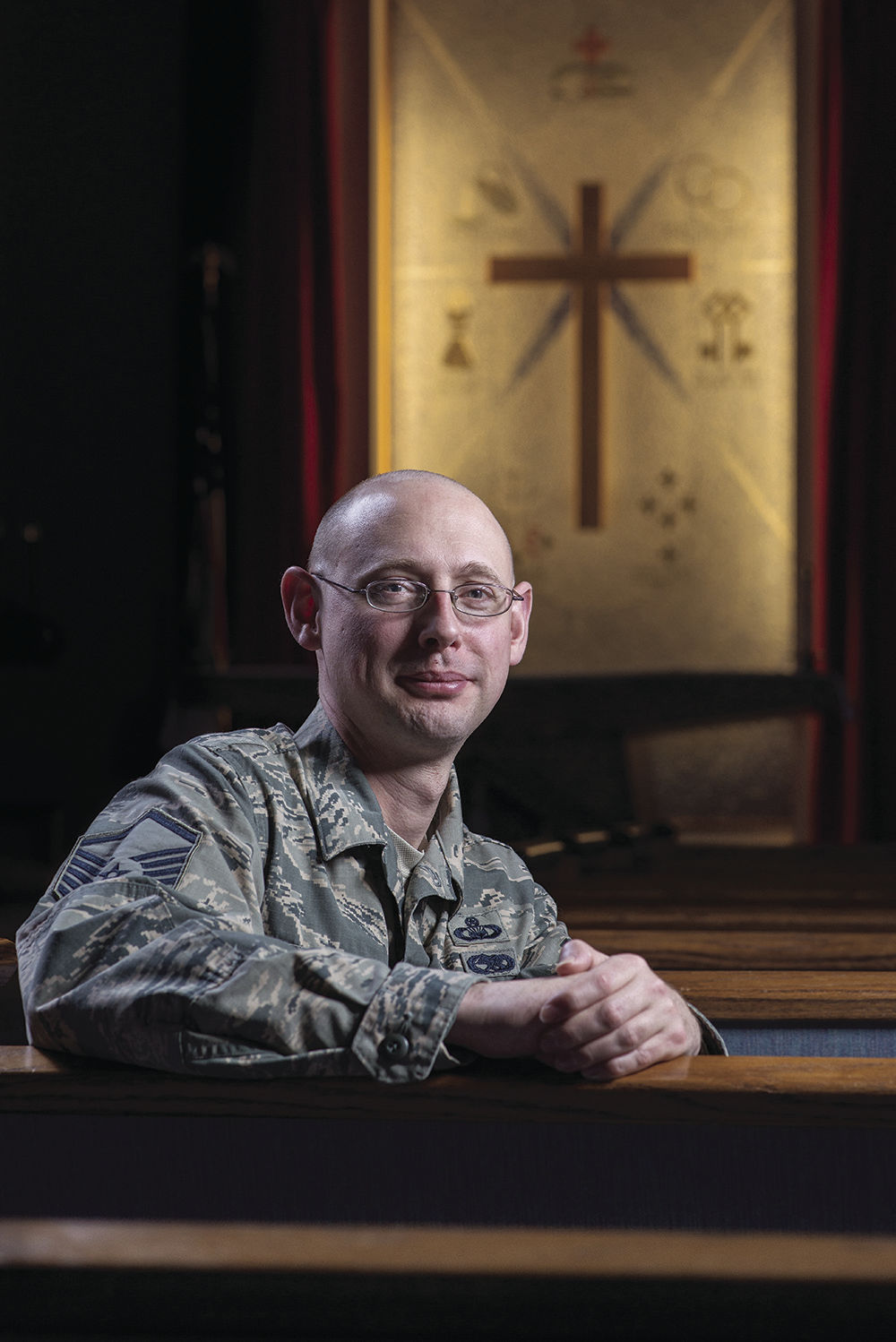 Behind every chaplain at Joint Base Elmendorf-Richardson is a chaplain assistant – someone  ready and willing to bridge the gap between enlisted personnel and chaplains. 
From administrative work to helping personnel in need, the work of a chaplain assistant is often a balancing act. 
For Air Force Master Sgt. Steven James, 673d Air Base Wing superintendent of chapel operations, balancing paperwork and people is no exception. 
"Every morning I get up knowing that I'm coming to work to do one thing and one thing only-to take care of Airmen, Soldiers, mission partners and their families," James said. "Everything I do serves that one goal."
The weekly schedule of a chaplain assistant can change in an instant. 
Providing support to the chaplains, overseeing the chapel, maintaining operations, and ensuring mission readiness for chapel personnel are all a part of the job.
The chaplain assistant's duties also include preparation for weekend services by cleaning, restocking supplies, and ensuring everything is functional for each service. 
All chaplain assistants must cross-train from another career field. 
The technical school is eight weeks long and is based out of Maxwell Air Force Base, Alabama. 
Originally from England, James joined the Air Force July 21, 1999, as an F-15 Eagle aircraft engine maintainer stationed at Langley Air Force Base, Virginia. 
James began his chaplain assistant career as a senior airman at Pope Air Force Base, North Carolina. 
"Moving from maintenance, I feel like I've merely switched weapon systems," James said. "I went from working on aircraft to working and helping with the most complex weapons system there is: individuals."
By tending to each individual personally, chaplain assistants provide personnel with someone to talk to and aid in the spiritual pillar of wellness. 
 "I find that the most rewarding part of my job is seeing someone leave the office in a more positive place," James said. 
"When I'm helping people or getting them to the chaplain, I feel like I'm making a difference."
For James, the most challenging aspect of working as a chaplain assistant is management. 
"An ongoing challenge we have as a team is ensuring that all the moving pieces function while maintaining the same end goal," James said. 
To members at the Joint Religious Operations Center, James continues to make a difference by taking care of others and having a passion for the job. 
 "Master Sergeant James is passionate about his job and the people around him, he attacks every day with a sense of purpose," said Air Force Master Sgt. Michael Chin, 673d ABW non
commissioned officer in charge of training and assessments. "It shows that he genuinely cares and wants the JROC team to continuously grow."
Chaplain assistants help build the foundation of the chaplaincy while emotionally and physically supporting personnel and the JBER mission. 
For questions or concerns, or to schedule an appointment with a chaplain or chaplain's assistant, contact the Joint Religious Operations Center at 552-JROC.