Christmas friendship dinner
Wasilla event marks 25 years of bringing all walks of life under the same roof for the same meal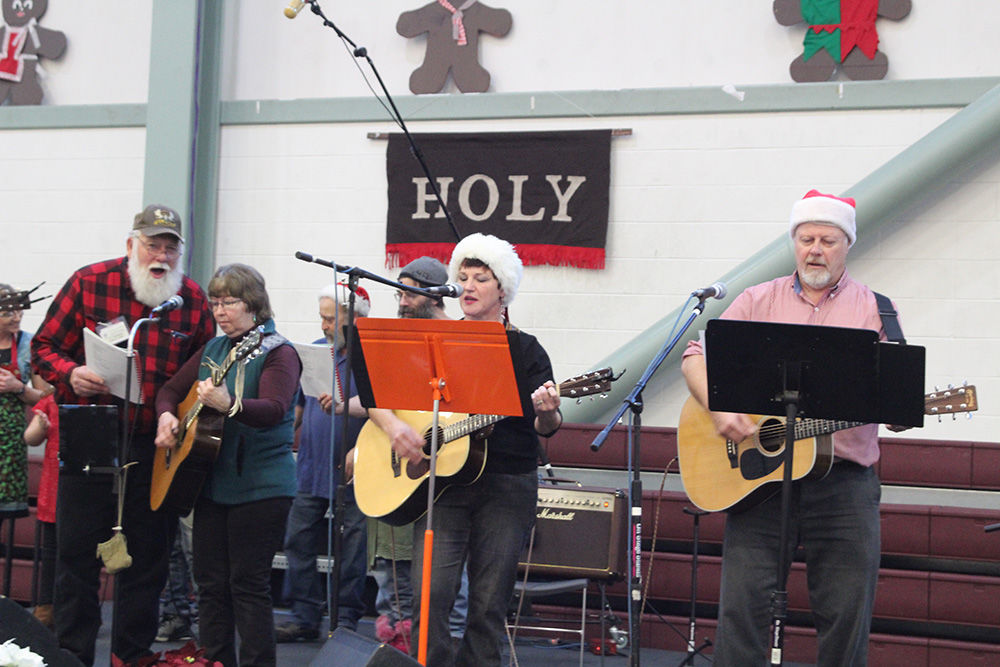 WASILLA — About 4,500 people filled the Curtis D. Menard Sports Center to partake in the 25th annual Christmas Friendship Dinner. About 600 volunteers worked together to serve 130 turkeys, 600 pounds of ham, side dishes, desserts, and rivers of gravy.
For those who were homebound, about 250 meals were delivered by 20 drivers. The parking lot was full of cars and people came from across the Valley to attend. Some walked there and others even used the free bus service. All the food was free to the public with one goal in mind — to share the holiday experience with others.
"That's almost more important than the food," said event emcee and long-time volunteer, Justin Giles.
In addition to free food, there was live music performed by locals and a visit from Santa Claus, who took photos with families. The Alaska Celtic Pipe and Drum plays every year and started off event. This year, some people got together to play some holiday classics. Giles said that it's common for musicians to spontaneous come together and perform onstage.
According to Giles, the volunteers are pushing to counter the notion that the event is just for the homeless. He said that they really want the community to know its true goal is to combat loneliness and foster connectivity. Historically, there have been some misunderstandings that effectively steered people away who would actually be prime candidates.
"There are people that feel guilty that they would be taking food from the homeless," Giles said.
The opposite side of the dilemma also added to some confusion. That is why the Christmas Friendship Dinner founder, Bob Bowers put a halt to at-the-door donations. Bower referenced an instance where a homeless couple saw someone in front of them donate 20 dollars and thought it was a paid event, then left.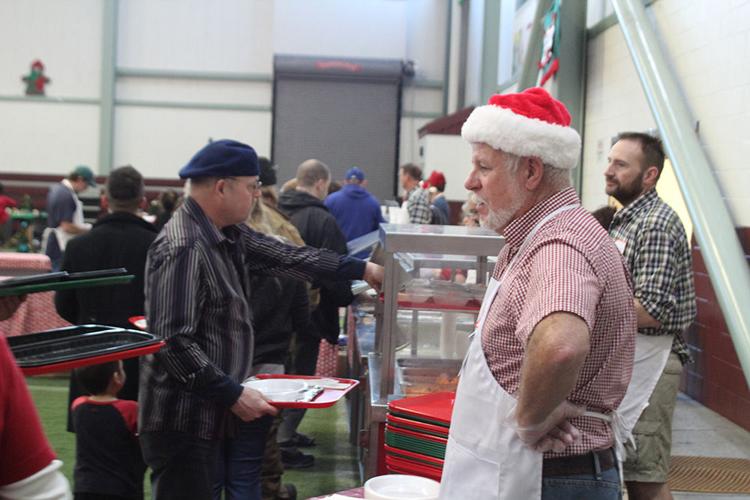 "We won't accept money at the door. We'll take a pie. If you walk in with a pie, we'll take your pie," Bowers said.
Bowers stressed that the dinner was open to everyone and anyone in the community. The Mat-Su Food Bank sponsors the event but the pool of volunteers gave the dinner a perpetuated life and created a tradition embedded in many minds. The dinner started in 1992 as a six-turkey dinner at the Wasilla Senior Center, grew exponentially, migrated to Wasilla High School, grew some more, and finally landed at the Menard Center to accommodate the massive collection of dinner guests.
"There's not a gathering like this anywhere," Bowers said.
There is a volunteer committee that begins meeting in September to prepare for the dinner, but the event is really something that is prepared all year, in one way or another. Bowers said that most of the volunteers have involved for decades. They've gotten into a groove.
"I think we have a good set-up here," said volunteer Sue Tischner.
Tischner said that the Menard Center's kitchen is a Federal Emergency Management Agency (FEMA) designed kitchen in case of a disaster. She said that FEMA wanted to know if they would be ready in case of an emergency and the Christmas Dinner was a real-life example, showing they can feed a huge amount of people, should the moment strike. Wasilla Mayor Bert Cottle was also at the event and he said that the city of Wasilla has been preparing for any disaster by stocking up on dried, canned food stored in the back.
"Bert was 100 percent behind us," Tischner said.
Although this event is undoubtedly sought after by the local food-deprived, the folks behind the event stressed that the hundreds of people from all walks of life attend the event. The dinner was established for people who are seeking company and wouldn't have a Christmas dinner otherwise. Doctors, lawyers, widows, widowers, home owners and homeless alike sat down for one reason or another. Some people didn't have any family members in the state. Some lost their spouse. For many, just the chance to be around other people while they put butter on a dinner roll was a worthwhile experience. For one man by the name of Jerry, this was a chance to socialize and get a hot meal. He said that he would sometimes catch up with someone he knew and chat with new faces. He's been going to these dinners for about seven years now and he said "just seeing the people" around him was nice.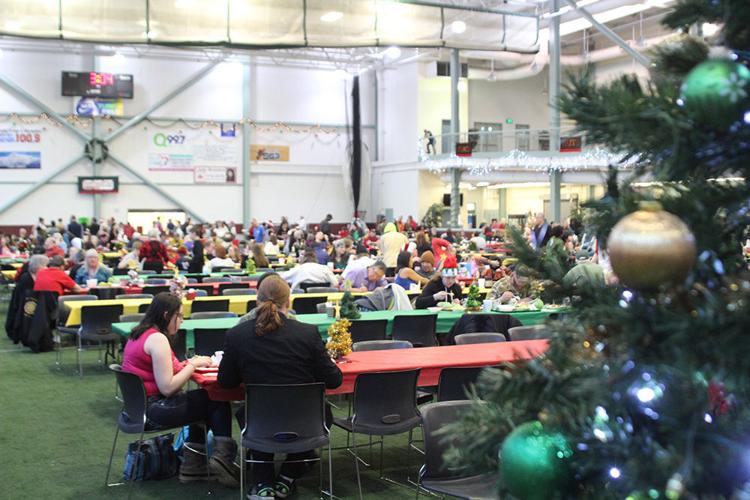 "The music was top-notch; sounds like the wheels were greased pretty good. 'Course, I don't want to be here when it's time to do the dishes," Jerry laughed.
Like the years before, Jerry came alone. He sat at a round table eating turkey. It apparently was moister than last year's. He came from a big family but they all are out of state, save one estranged sibling whom he seldom speaks to. Jerry is a senior and was recently taken off the Meals on Wheels program from the Wasilla Senior Center, he said. He's back to cooking on his own again but he wants his Meals on Wheels back. He said that after the budget cuts, names were taken off the list based on eligibility. He's currently appealing the decision and is waiting to hear back from them. For now, he is just glad to get a hot meal. He said he isn't lonely and he has two dogs. The mashed potatoes and surrounding community seemed to keep him in good spirits.
"We're all related right? We're all brothers and sisters," Jerry said. "If you go back far enough."
All of the food is donated throughout the year. Bowers said that all of the remaining, usable food items are donated to the food bank and other places in need. The committee accepts donations every year, but Bowers said they wind up with all the food and materials they need and have plenty of funds leftover. The committee discusses which charity or cause they want to support. After the dinner, nearly all of the donated funds are given to local nonprofits.
"You couldn't ask for a better crew," Bowers said.
This is Bowers' last year overseeing the event. In fact, he said that he did very little this year because his replacement, Kurt Jarmer has already taken the helm with his "right hand man," Lucas Parker, the head chef. Both are long-time volunteers and have grown accustomed to the seasonal tradition and workload. Bowers said that his crew has been doing this event long enough to keep it going without him. He and his wife, Judy are set to become "snowbirds," and move out of state, returning to Alaska just a few weeks at a time. Bowers will be at the dinner next year, only to answer a few questions and watch the wheels spin around.
"I did my job. I trained them. They don't need me anymore. They're doing a wonderful job," Bowers said.
Giles said that the committee is already planning for next year. To find out more about the event and how to volunteer, call 907-315-6115.