JOINT BASE ELMENDORF-RICHARDSON, Alaska  –  When a bear mauled a hunter near Galena, June 10, 2019, the victim was 150 miles from a highway and more than 250 miles from the city of Nome.
The Alaska Rescue Coordination Center at Joint Base Elmendorf-Richardson, Alaska, requested assistance from the Alaska Air National Guard's 176th Wing who dispatched rescue Airmen of 210th, 211th and 212th Rescue Squadrons, which compose the unit's rescue triad.
Due to the distance and the urgent need to get the victim to a trauma ward, an HC-130J Combat King II of 211th RQS rapidly covered the hundreds of miles to airborne drop two 212th RQS pararescuemen (PJs) to provide immediate medical aid to the hunter until a 210th RQS HH-60G Pave Hawk helicopter could close the distance to pick up the PJs and the hunter. The helicopter transported the victim to Galena where he was transloaded to the HC-130 for further transport to JBER and finally an Anchorage hospital on an Alaska Army National Guard UH-60 Black Hawk of 1st Battalion, 207th Aviation Regiment.
A tour de force of search and rescue coordination, cooperation and capability, the operation also demonstrated the 'tyranny of distance' inherent to the Indo-Pacific theater in general and Alaska in particular.
To address the challenges of distance in Alaska, Alaskan Command staff organized and hosted site surveys Aug. 23-27 of the remote communities of Nome and Utqiagvik for suitability of hosting full-spectrum search and rescue operations of the rescue triad.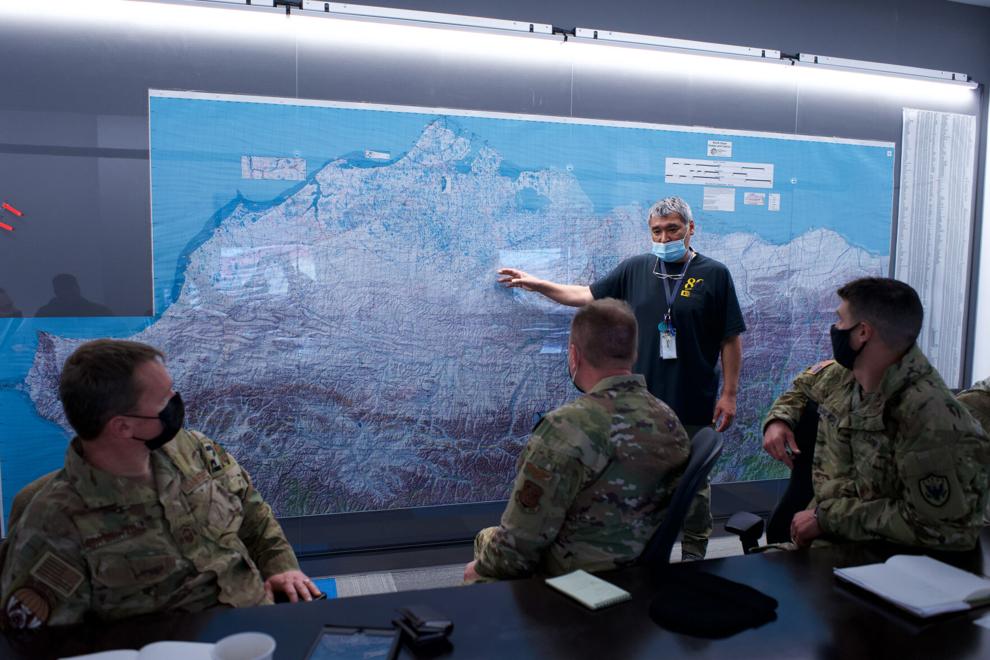 The right team for the job
Charged with leading the team was Paul Nelson, Alaskan Command Personnel Recovery/Search and Rescue program manager. A retired Alaska Air National Guard command chief master sergeant, Nelson is an experienced PJ who spent half of his 34 years of service involved in search and rescue operations with 176th Wing.
Nome and Utqiagvik are well suited to host PR/SAR operations with the coastal city of Nome located on the Seward Peninsula adjacent to Russia, and Utqiagvik is the northern most city of the United States deep inside the Arctic. Both cities function as hub communities for their regions' surrounding towns and villages.
"Because of the incredible leadership of both communities, they were more than welcoming in opening their doors to us and giving us assistance," Nelson said. "A major objective of this trip is to further build on existing relationships between community leaders and ALCOM and the National Guard. You really can't put a price tag on that."
Nelson said he was charged by ALCOM commander, U.S. Air Force Lt. Gen. David Krumm, to gauge the capabilities of both communities' airports and surrounding infrastructure to host PR/SAR operations during a crisis, determining their current suitability and what would be needed to make them fully able to act as PR/SAR platforms, so Krumm and other leaders could advocate and plan for future resourcing.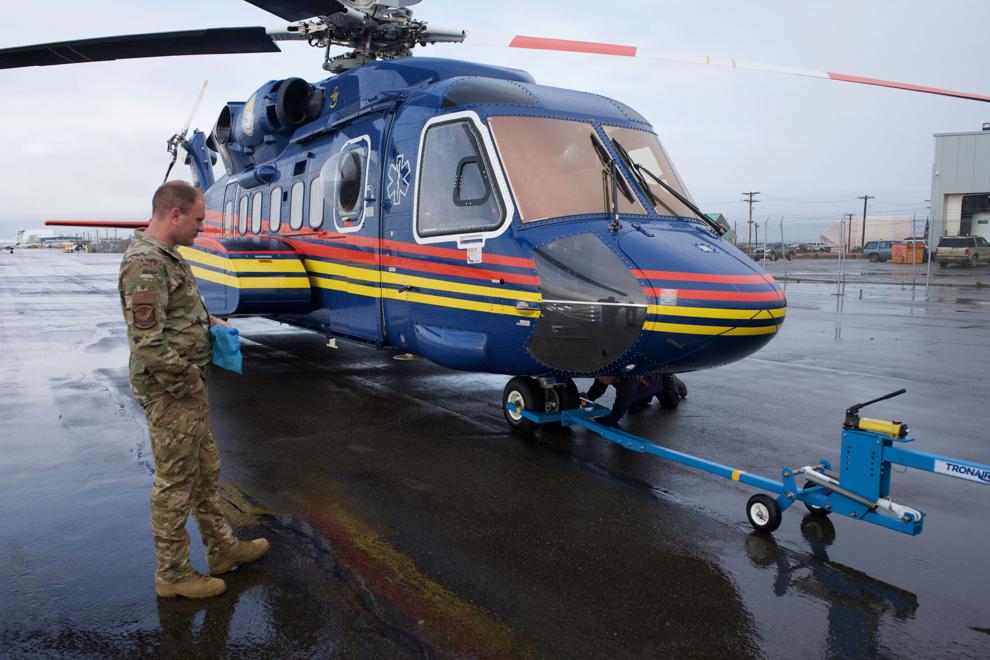 Nelson said the survey acts as an important diagnostic in order to prepare for unforeseen contingencies.
"The big deal here is we don't want to try and figure this out when there is an emergency," he said. "We want this figured out before an emergency happens because when people are hurting and they're having a bad day, that's not the time to figure this out."
Nelson said whether supporting defense support of civil authorities or supporting homeland defense, PR/SAR operations are an integral part of the ALCOM mission.
"Two overarching objectives of Alaskan Command under the umbrella of Northern Command is to provide homeland defense and to provide defense support of civil authorities, and personnel recovery/search and rescue plays heavily in both of those objectives," he said. "When it comes to search and rescue, we all know that Alaska is very big, and the lack of ground transportation makes us heavily reliant on air transportation, which really makes for the need of robust search and rescue across the state.
"While we have that network – not only within the Department of Defense, the Alaska National Guard, local and borough entities that provide search and rescue – there are still gaps where we start analyzing our capabilities statewide," Nelson continued. "So, what we're doing here is looking at the capabilities in the state if we ever had to reposition forces to cover a gap."
He said ensuring robust PR/SAR coverage of the state isn't only important in case of a disaster, but also in times of homeland defense when fighters and other tactical aircraft may be called upon to operate across the state.
"General Krumm put it very well, 'America's fighting men and women do incredible things because they know that someone is always going to come and do their best to get them,'" Nelson said. "That is what search and rescue provides. We provide that sense of security where American service members can go out there and do their mission because they know somebody's got their backs."
For the technical nucleus of the team, Nelson coordinated for the services of four Air Force Reservists of 922nd Civil Engineer Flight who surveyed both airports and compared their airfields and facilities against rigorous technical specifications detailing requirements for hosting HC-130, HH-60 and pararescue operations.
Working with 922nd CEF Airmen were Guardsmen of the rescue triad and the 176th Maintenance Group who provided their expertise to flesh out the technical requirements with operational and maintenance considerations in mind. Finally, U.S. Army Maj. Gavin Laskowski, ALCOM J4, provided logistics insight.
"The 922nd has the unique capability of Air Force Reservists who do this for a living, they're extremely good at it, and they're professionals who come from an engineering background," Nelson said. "They're facilities experts, and they have teams who have been all over the Indo-Pacific theater in places like Wake Island, and now they're expanding their portfolio by doing these site surveys in Alaska."
U.S. Air Force Reserve Lt. Col. Jonathan Linquist, 922nd CEF team lead, explained the mission of the unit stationed at March Air Reserve Base, California.
"Our purpose is to provide staff-level services to combatant commanders and subordinate units when they need it anywhere in the world," he said. "In Nome and Utqiagvik, we are looking at the suitability of search and rescue missions out of those locations. We are looking at what they can support now and what are the limiting factors that we may want to address with construction work to be able to support in the future."
Linquist said the first thing they look at is the runway, measuring its length and width against requirements of each aircraft type it's anticipated to support. They then look at aprons, hangars and other facilities along with total fuel capacity and material-handling equipment.
"Because the aircraft can only operate during the summertime without some sort of heated enclosure, we're looking at hangar space for two HH-60s and one HC-130," he said. "The HC-130 can operate in the cold as long as there's deicing capability, but the avionics are sensitive."
Linquist outlined the challenges of engineering and maintaining facilities in the northern environments.
"Construction in the Arctic is incredibly complicated," he said. "Part of that is the soils and the permafrost, and another part is the logistics of getting materials and equipment to the locations to complete the work."
Linquist cited the example of there being no aggregate materials suitable for concrete and asphalt in Utqiagvik, requiring barging tons of the material, which is something that can only be accomplished when the ocean is unfrozen during the summer months.
Nelson said the 922nd CEF team can't do its work in a vacuum and relies on operational experts to flesh out their report.
"The 176th Wing in its mission of combat search and rescue and personnel recovery, has some of the best subject matter experts in the Air Force, certainly in the arctic environment," he said. "Those Airmen assisted the 922nd CEF by providing that expertise as the engineers looked at what was required to support, bed down and operate an Air Force search and rescue organization in the Arctic."
Alaska Air National Guard Senior Master Sgt. Dennis Mobley, 176th Maintenance Squadron, summarized the 176th Wing's primary maintenance concerns.
"We're primarily looking for fuel availability and resources to be able to care for an aircraft during summer and winter operations, ensuring we have adequate storage space and housing of the aircraft in Alaska's unique environment," he said.
Mobley said the team was met by experts willing to lend a helping hand.
"At both places, people were friendly, very accommodating and willing to go the extra mile to help us even though we were only information gathering and didn't have anything pressing at the time," he said. "Everyone was happy to see us, and they were happy to help us as needed, which included giving up their building space for a period of time."
After traveling from JBER to Nome Aug. 23 on a 211 RQS HC-130, the team was serendipitously greeted by Justin Polayes, a current employee of Ryan Air and U.S. Air Force veteran who served as an HH-60 special missions aviator experienced in PR/SAR operations.
Polayes wasted no time in sharing his knowledge of the Nome Airport with 176th MXG Guardsmen Senior Master Sgt. Dennis Mobley and Master Sgt. Earl Brown. Intimately aware of what Pave Hawks and Combat Kings need to carry out rescue operations, Polayes showed them possibly suitable hangars and discussed fueling and communications requirements.
A major aspect discussed by the three was deicing, a process involving spraying down an aircraft with a glycol solution to prevent control surfaces from freezing up and getting weighed down during frigid weather.
On Aug. 24, members of the team met with Nome Mayor John Handeland and Glenn Steckman, city manager. Nelson thanked the leaders for hosting the survey team, and he shared Krumm's vision for the availability of the airport as a possible PR/SAR platform.
Handeland and Steckman explained the challenges of running a hub city in an "unorganized borough," meaning there is no borough- or county-level government, so the city often acts as a de facto regional government for the Kenai Peninsula. Therefore, their interests in PR/SAR support extends beyond city limits.
Handeland, who grew up in Nome, recalled an earlier time when the Alaska Army National Guard had a robust presence in the community, and said he longed for a return of Guard numbers to the community. He specifically asked for a more-persistent presence of Army UH-60 helicopters.
The team boarded an HC-130 for the 500-mile journey north from Nome to Utqiagvik situated between the Chukchi and Beaufort Seas on the Arctic Ocean. Despite the calendar indicating late summer, temperatures hovered around freezing, and frigid wind cut through fleece jackets and stocking caps worn by members of the team.
In addition to the city's airport, the team looked at the airstrip and hangar of the Naval Arctic Research Lab. For both facilities, the same parameters were measured as they were for Nome.
The team met with North Slope Borough Mayor Harry Brower Aug. 26 at the borough office in Utqiagvik.
The mayor talked about the challenges posed by climate change, specifically land erosion incurred by melting coastal ice and permafrost. The threat could trigger community resettlements and evacuations in the future, he said.
After meeting with the mayor, the team visited with SAR professionals of North Slope Borough Search and Rescue. At nearly 90,000 square miles of land, the borough is larger than the state of Idaho, requiring a robust SAR presence said Lewis Brower, NSBSAR coordinator.
The coordinator said the lack of trees and relatively flat terrain make search operations easier than in forested areas where the canopy can obscure an isolated person. Still, long distances, vast search areas, and frigid, volatile arctic weather can pose SAR challenges for the agency's mix of fixed- and rotary-winged aircraft.
He said the borough issues free-of-charge personal locator beacons, which greatly decrease search times for isolated personnel.
During his presentation, Lewis Brower shed a tear talking about a particularly harrowing mission rescuing a family – including small children – who were stranded on a boat in the Arctic Ocean for several days.
Nelson said in the moment he recognized the coordinator had a heart for rescue.
"There's no more noble a mission than rescuing a fellow American," he said.