Preventing suicide – everyone's job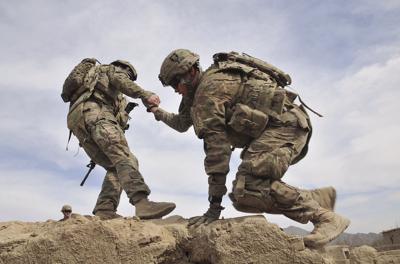 September is Suicide Awareness and Prevention Month – a month-long time to remind us of our responsibility to help prevent suicide and help the people with whom we live and work.
Preventing suicide means providing assistance to people before they ever reach the point of suicide. It requires each individual to give an all-hands-on-deck effort; everyone has a role to play. 
One excellent way is by making sure that our co-workers, friends, and family feel connected.
Soldiers, Airmen, and family members alike are encouraged to focus on the four pillars of resilience – physical, emotional, spiritual and social wellness.
"In order for a house to be built, it has to start with a solid foundation," said U.S. Air Force Staff Sgt. Briana Pulley, 673d Inpatient Operations Squadron mental health technician. "The columns are going to be those four pillars." 
Engaging in regular physical activity, connecting with others, taking time to foster spirituality, and building emotional support networks can make a big difference in mental health.
"Without those four pillars it can be difficult in your day-to-day job, and that's where the 673d Force Support Squadron is here to help," said Jessica Shaffer, 673d FSS marketing director. "We offer balance to your life, to keep your resiliency up, and your physical, social, mental and spiritual pillars healthy so that you can get the mission done."
To that end, the squadron created the JBER Life program.
It helps service members and the community stay connected through numerous events and programs.
"JBER Life is everything fun; it helps members stay connected to all the happenings on base," said Shaffer. "We're here to support our troops, the programs, and events we have going on for the benefit of the whole community."
Shaffer mentioned JBER Life has information on everything from child and youth programs to outdoor adventures. In the summer, they offer activities like golf, kayaking and hiking. In the winter they offer many snow-related activities and several indoor activities like bowling and rock climbing.
Service members who integrate these activities in their lives, help strengthen their physical pillar.
Another option for service members can be volunteering for different activities.
"Volunteering can help people feel connected and happy to give back to the community, whether it is working with kids or working at the Warrior Zone organizing a tournament that's never been done," said Shaffer. "You can find something that you're good at already, or try something completely new and find out you have this skill that you didn't realize before and put it into use."
Getting involved with the community and in different events not only keeps people active, it preserves the social and emotional pillars of resiliency.
Every activity JBER Life offers gives service members an opportunity to boost morale and engage with the community.
The Joint Religious Operations Center is another source Soldiers and Airmen can use to remain resilient.
"Our primary mission at the JROC is the people, because the people make the mission happen," said U.S. Air Force Lt. Col. James Anderson, deputy JBER chaplain. "We're here to take care of people, and make sure they are ready for whatever life situation they find themselves in."
It is essential for every Soldier and Airman to preserve excellent spiritual health, and JROC provides ways to accomplish it.
"What we've seen from evidence and scientific research is that the practice of faith in our lives makes us healthier – emotionally, mentally and physically," Anderson said.
"It gives us purpose, connects us to a larger community and puts things in perspective. Our spiritual nature is the engine that drives all of those, and if we don't take care of that engine, it's not going to run smoothly."
Anderson also explained, whether you're a person of faith or not, being in the military means you're connected to something bigger than yourself, which is what makes it spiritual. 
 "The practice of our faith adds a measure of stability, health, and well-being that decreases risk factors in our life," he said. "That's why we encourage individuals to be plugged into the programs. Whether that's specifically within our chapel communities or the broader programs offered across the base, to be plugged into those is to be recharged and renewed in their spirit."
Having strong pillars of spiritual and emotional resilience can help many overcome adversity.
Some of the programs the chapel offers are marriage retreats, youth programs, and crisis intervention and counseling, all of which have 100-percent confidentiality.
Engaging in an overall balance of the four pillars of resiliency will help Airmen, Soldiers and the community live a better and healthier life-style.
For more information, contact the behavioral health office at 580- 2181, JBER Life at 552-5900 or facebook.com/JBER Life, and JROC office at 552-5762 or facebook.com/JBERChapelCommunity.