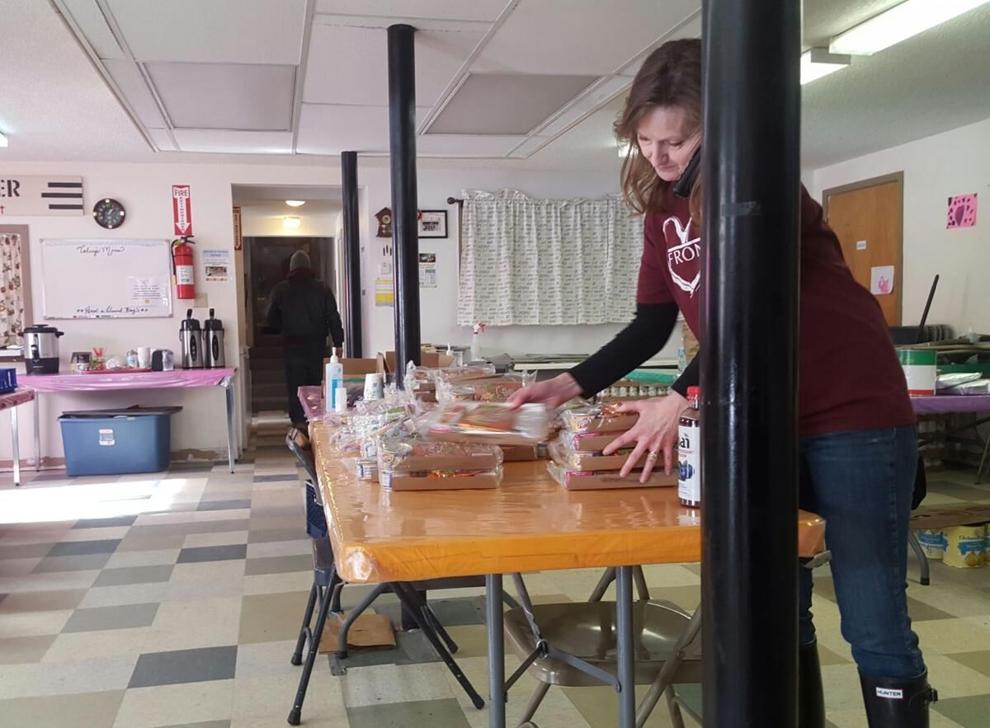 WASILLA — It's that time of year again. Thanksgiving is just around the corner and Frontline Mission staff and volunteers are eagerly preparing for the return to an in-person community dinner this holiday season.
"It really builds the community," Frontline Mission Managing Director Matthew Sheets said.
Frontline Mission's Thanksgiving dinner event will take place at its usual location at the Menard Sports Center from 11 a.m. to 2 p.m. Nov. 25, Thanksgiving Day.
Last year, the entire experience was streamlined into a socially distanced drive-thru model due to the pandemic. Sheets said this year is going to be just as safe with mitigation efforts in place, but it will be even more exciting now that the public can sit down and enjoy meals together again.
Sheets said there's a huge need for this to countless citizens of the Mat-Su community, not just for the food itself. More importantly, it's about the social component and the sense of belonging during the holidays.
"Unfortunately, not everyone in the Mat-Su Valley will have a Thanksgiving dinner to look forward to, or family to share it with, not even a warm safe dwelling," Sheets said. "We don't want to turn anyone away. That's what Frontline Mission is all about."
Thanks to community partners, event sponsors, and donations from groups and individuals, Frontline Mission offers free Thanksgiving meals with all the classic fixings each year. Sheets said they anticipate serving over meals to the hungry, hurting, and homeless of the Mat-Su Valley.
Sheets said they prepare for this event all year and they're expecting to utilize over 300 volunteers. He noted that there are still slots available to volunteer and they could always use additional financial support from the community to pay for this event and prepare for the rest of the holiday season.
"This is a big meal and a big endeavor," Sheets said.
Sheets said they're grateful for a $15,000 grant from Mat-Su Health Foundation that will support their Thanksgiving and Christmas food box program.
"It's a really fun time of year for Frontline," Sheets said.
Each week, Frontline offers food, clothing, showers, and other services to the community each week at their main campus located at 2001 East Palmer-Wasilla Highway, near Fred Meyer and Wasilla Lake.
"Frontline Mission is a connecting place between the less fortunate and compassionate people of the community. When people connect with one another change happens,"
For more information about Frontline Mission, call 907-357-8600 or visit frontlinemission.org.
Contact Mat-Su Valley Frontiersman reporter Jacob Mann at jacob.mann@frontiersman.com