"The implications of this contract are real." MSBSD school board votes to confirm contract imposition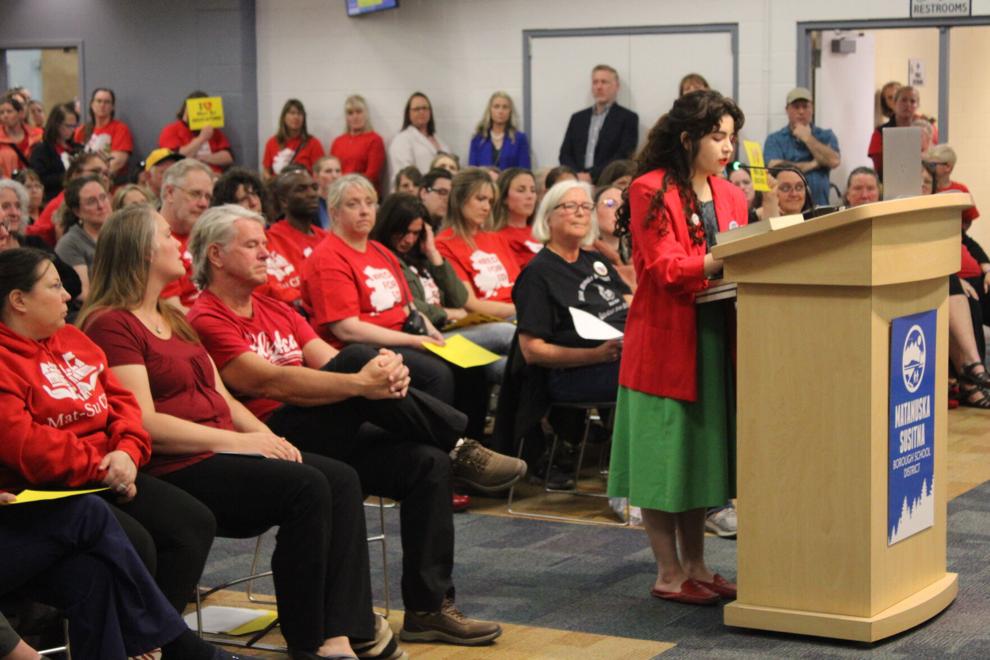 During the Wednesday evening regular meeting of the Matanuska Susitna Borough School District (MSBSD) school board, there was once again a sea of teachers, librarians and support staff wearing "Red for Ed" shirts in support of the Mat Su Education Association (MSEA).
The two sides have been trying to hash out a contract since February, 2022, when initial proposals were exchanged. Mediation began in October of that year and continued through November. At the end of February of this year, both sides entered into arbitration.
On May 10, collective bargaining began, and after three consecutive days of bargaining, the parties remained at an impasse. As a result, the District notified the MSEA that the District was imposing its last best offer effective May 12, 2023.
The catalyst issue remains the healthcare insurance provider, although many are unhappy with the proposed 2% pay increase for each Fiscal year for the next 3 fiscal years.
The current health care provider, Public Education Health Trust (PEHT), is set to expire on June 30.
Because both sides are at an impasse, the MSBSD has taken the rare move to impose its last best offer. This is allowed under Alaska Admin Code (8 AAC 97.280), which says that after a mutually recognized impasse following advisory arbitration, a municipal school district, regional educational attendance area, or state boarding school may implement its last, best offer, and the employees may engage in a strike if a majority of the employees in a collective bargaining unit have voted to do so.
The MSEA held a vote on May 15 to authorize a strike if continuing negotiations fail to reach agreement. The MSBSD and MSEA have negotiated for a successor agreement for over a year, but have yet to reach an agreement to date, leaving educators without a contract since June 2022.
Among the provisions included in the MSBSD's latest offer includes retroactive salary payments scheduled for early June, open enrollment for the 2 Premera health plan options, other changes and previously agreed to items are being addressed as appropriate.
Some tentative agreements include revised in-district posting schedule, an updated sick leave bank section, a streamlined and clarified salary advancement provision, an updated co-curricular salary schedule, allow new hires additional years of experience for salary placement, and incentives for hard-to-fill positions.
During public comment, teachers, school nurses, and support staff spoke unanimously in opposition to the current contract proposal.
Heather Asselin, mother of 4, USAF veteran, "unwavering disability advocate," who also served as ABA preschool teacher, resource room teacher in grades 1 through 5, and Waldorf Teacher at Birchtree Charter School.
"I stand before you today with an unyielding sense of urgency and unwavering conviction to oppose the implementation of the high deductible insurance plan for esteemed educators. The consequences of such a decision could have devastating effects on the lives and well-being and livelihood of those who serve as the backbone of our education system."
She warned that the district not be drawn in by the numbers associated with their proposed insurance provider.
"The allure of short-term cost savings associated with a high-deductible insurance plan may seem tempting, but the reality is that it is nothing short of Russian roulette with the lives of our educators."
Asselin spoke of her own health issues and subsequent required surgery that she scheduled around a Thanksgiving holiday to have the least impact on her students. She spoke of subsequent complications from the surgery.
She acknowledged that living in Alaska means dealing with exorbitant costs of healthcare needs, limited number of specialists and painfully long waitlists to see those specialists.
"Without the comprehensive coverage provided by our current healthcare plan, my family would have been left with insurmountable debt and would have been forced to seek long term care outside the state, and would not be here today. Thanks to the support of the current healthcare insurance, I was able to get the healthcare that I need and was able to return to school."
"If you value education, you must value teachers. If you value teachers, show it by giving them a fair contract," said Gina Marchini, an elementary teacher with 12 years at MSBSD.
"With the imposition of this contract, teachers do not feel valued."
She went on to share her personal health story that includes chronic diseases, and told board members that she has pored over the new health plan and found that many of the medications she needs will either be higher in cost or not be covered at all.
"The implications of your contract are real. We are real people. We have real diseases, real stories, and real lives," she tearfully told the board.
"Teachers were shocked by the imposition of a contract that we did not agree to on May 12. This contract not only imposes a very meager 2% (pay) increase during a period of record-setting inflation, but even more shockingly forces a significant decay in healthcare coverage that for many of us is essential."
MSEA President Vicki Hewitt told the board that she has received hundreds of calls, texts, and emails from educators throughout the Borough voicing support to the teachers.
She asked the school board to consider opposing the imposition of the contract.
"1146 people, over 90% of employees opposed this contract and have authorized a strike rather than accepting what is being forced upon us," Hewitt said.
"This is not a union issue. It is a teacher, counselor, nurse, librarian, and related service provider issue."
She asked that if the contract is imposed, to allow for more transition time to a new health insurance provider.
"We are more than just data, and people's health is on the line. If you impose, you will get the data that's so important to you, but we need time to transition. Having our insurance end on June 30 is too fast."
During the discussion whether to confirm the imposing of the MSBSD's last offer, Member Kathy McCollum noted that many people who spoke, desired to go back to PEHT and asked if that was a possibility, to which said MSBSD attorney John Sedor said in a roundabout way, they would not be going back to PEHT.
"The district imposed on May 12. We worked for 3 days very hard to try to reach an agreement. We didn't reach an agreement-we imposed," said Sedor. "There are a number of practical considerations, and once you start across a stream, you have to cross a stream. The district has crossed a stream."
At one point during the discussion, Member Ted Swanson asked if Hewitt could approach and answer questions, to which that request was denied as she was not a presenter. The audience vocalized displeasure at the denial.
Newly elected Student Advisory Board Representative Ben Kolendo noted "The most recent vote was 94% of our teachers voting for a strike. We're acting as if that's not a big deal…as a student, I want my teachers at school."
It should be noted that during public comment, no one spoke in favor of the district's latest offer. During the MSBSD board discussion on the matter, no board member said why they did or did not support the imposition.
Before a vote to confirm the imposition, Katie Gardner, Deputy Superintendent for Business and Operations, did report that both sides have agreed to continue bargaining and are scheduled to meet on May 31.
After a number of time extensions, the vote was called and the motion to confirm the MSBSD contract imposition carried in a 5-2 vote.