An allegedly intoxicated driver took a sharp left turn on a straight stretch of the Glenn Hwy and crashed into apartment buildings on Cobb St., causing between $10,000-15,000 of damage to the buildings. The tenant has left to stay with relatives. It will be two months before an inspection can be done and repairs can be made, according to Myrrh Anderson, who has been the property manager for over a year. 29 year old Palmer resident Cyle Sands popped his 2012 Ford Escape over the median, past the oncoming lane of traffic, through a chainlink fence and into an apartment complex. 
Charging documents have not been filed as of Tuesday morning, but officers are working a DUI drugs case, according to Palmer Police chief Lance Ketterling, and are working toward obtaining a search warrant. PPD arrived 3 minutes after the original call was placed.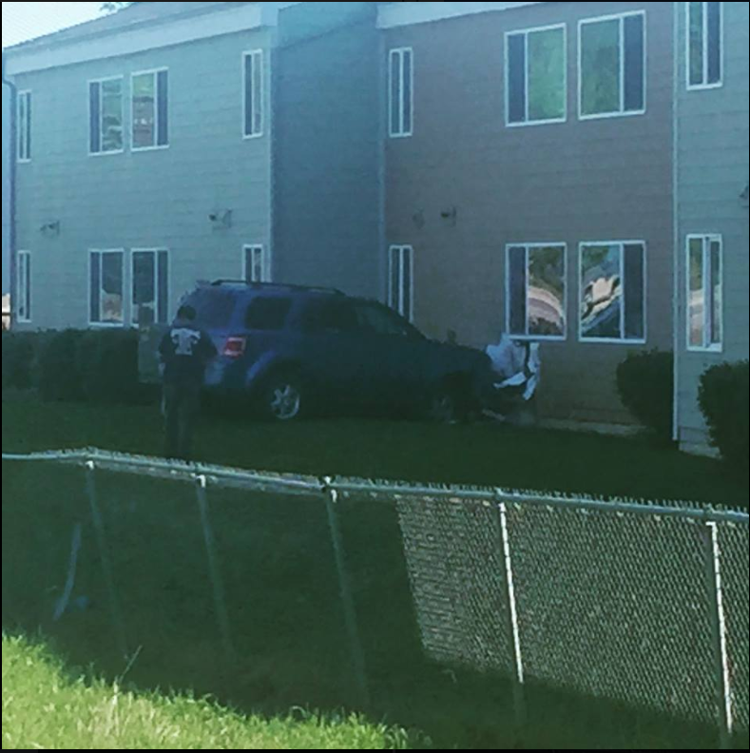 WASILLA — Three criminals under the supervision of pretrial enforcement were arrested Saturday for burglarizing a residence on Shrock Road in Wasilla. At 12:18 a.m. on Saturday, AST got a call from a friend of the property owner who was driving down the road and saw a theft in process from a house and shed on Shrock. The friend exited his vehicle and attempted to detain the three burglars at gunpoint, but they fled into the woods. Once AST arrived on scene they located a Chrysler Minivan and a Subaru station wagon loaded with thousands of dollars of copper wire, welding supplies, construction equipment and vehicle equipment. K-9 Skippy was dispatched where the trio entered the woods to help locate the burglars and found 26 year old Ethan Kerr of Wasilla. 31 year old Felisha Thomas of Wasilla was found walking down the road later that morning. 28 year old Wasilla resident Joshua Johnston, who was wearing an ankle monitor, walked out of the woods apparently expecting Troopers not to be there. It took about two hours for the entire trio to be wrangled up. All three were violating conditions of release from previously committed crimes and were under the supervision of the Pretrial Enforcement Unit.
Kerr was out on bail for his most recent conviction on Nov 11 of 2017 for driving without a license. He then had a warrant issued for his arrest on Jan 2 of 2018 and finally appeared in court on May 13. Kerr has been charged with six crimes in the last 365 days and 8 in the last five years.
Thomas had been released on her own recognizance from her most recent crime on May 5 when she was charged with criminal trespassing. Thomas had been released just over a week prior to the burglary on June 2, and has been charged with a large handful of crimes, including 14 cases in the previous 365 days. Johnston was on trial for a May 5 theft valued above $7,500 and below $25,000, expecting to go to trial in July.
FUGITIVE AT A PHONE BOOTH
Someone was following Emosi Paasi. The fugitive of justice will be extradited out of the state as he had previously been convicted of felony possession of a firearm and ammunition in California. Paasi felt he was being followed and used the phone outside of Wasilla Police Department to call dispatch himself and inform the Police that he was being followed, although it is unknown by whom or for what purpose. Paasi was arrested and taken to MSPT where he is being held without bail prior to extradition.