PALMER—On Tuesday, several young adults/community leaders from the Valley organized the annual Youth Summit at the Glenn Massay Theater to help break down "awkward" social barriers and discuss three main drivers behind addiction.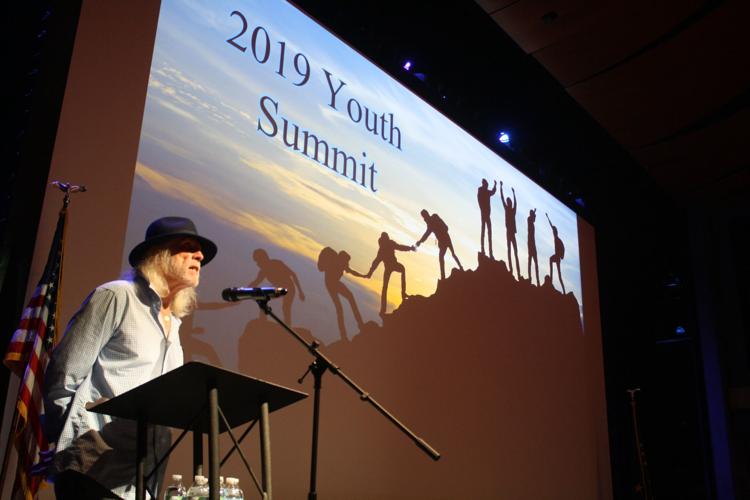 "We know that recovery is all about relationships and we want to seize this awkward conversation and let you know, if you're a youth, you're not alone and you don't have to go in alone. There are resources out there," Michael Carson, V.P. and recovery specialist/chair of the Mat-Su Opioid Task Force said.
The MyHouse Youth Action Board organized the event, coordinating with several local nonprofits like No More Mat-Su and the Mat-Su Opioid Task Force to raise awareness about addiction and prevention.
During the event, several local vendors had booths inside the main lobby to help connect youth and families to resources, addressing the three main adversities discussed that evening: mental health, poverty and trauma.
Following several speaker presentations from officials like Dr. Anne Zink, Alaska Chief Medical Officer, a panel of young adults spoke on the main stage to discuss the three main drivers and how they affect youth's choices to engage in behaviors that ultimately lead them to substance abuse.
Most of the panel members are on the MyHouse Youth Action Board. Janel Gagnon, the adult advisor for No More Mat-Su acted as the facilitator for the youth panel. She asked them several questions about what factors drive addiction and how they all got through their various adversities.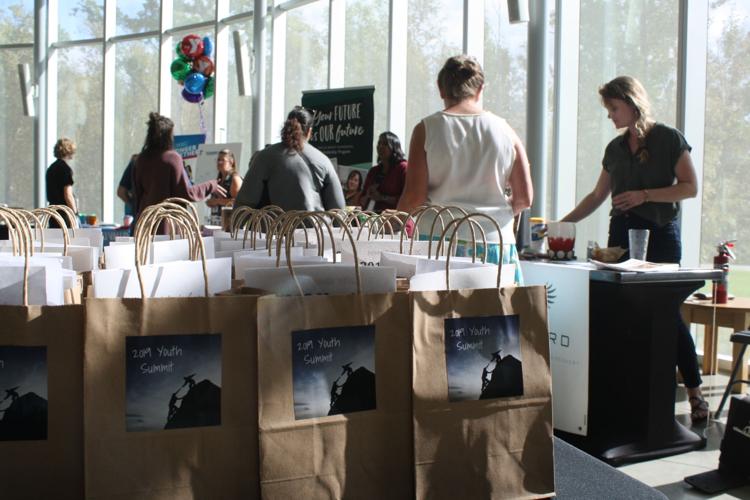 Each member of the panel shared personal experiences from their life to illustrate what challenges youth face growing up in the Valley. They shared their heartaches, trials and tribulations to show that recovery is possible and worth the trouble.
Phoenix Bishop is a student leader with No-More Mat-Su and a sexual assault survivor. She said that she wants to "shatter the stigma" of sexual assault and domestic violence, particularly for young children.
She said that when she was young, her mother gave up her parental rights due to her mental illness and addiction to drugs. She lived with her grandparents and she eventually found herself taking care of her mother for many years.
"I never really thought that as a child, that I would go through that and I grew up at a young age," Bishop said.
Brandi Kinney spoke as a survivor of domestic violence and sexual assault. Like Bishop, Kinney said that she wanted to break down the stigma that trauma victims have to overcome.
"Because statistically, more than half this room has either experience domestic violence or sexual assault and most of the time it's by a close family member," Kinney said to the theater audience.
Kinney encouraged her peers, audience and surrounding community to speak up and start having these difficult conversations if they're trying to process their traumas. She said it has to be out in the open to for the healing to begin.
"Ignoring it is not going to create solutions," Kinney said.
Justin Pendergrass said that he was survivor of suicide, homelessness, domestic violence, and poverty. Pendergrass is a suicide prevention coordinator at MyHouse. He said that he joined the panel to dispel the stigma of talking about suicide.
"It is a very, very hard topic and a lot of are afraid to bring it forward and tell people they're struggling," Pendergrass said. "You can make it through and you can find the strength through the darkness." 
Griffen Mackey is a manager for MyHouse. He spoke as someone with a family history of addiction. He said that substances are not necessary to cope with life and that reliance only spells the beginning of the end.
"You definitely don't need to rely on something outside of your body to drive you in the world, especially when it leads you back into the terrifying chase that will ultimately lead you one of two places," Mackey said.
Logan Cook is the human services case manager at Cook Inlet Tribal Council, Inc. and serves on the Mat-Su Opioid Task Force with Carson. He said that he's approaching four years sober from substance abuse in November. He said that he hoped his story would help other youth going through similar struggles.
"Maybe someone in the crowd can share my experience with another youth out here- or anywhere," Cook said.
For any additional information about the Youth Summit, call MyHouse at 907-373-4357 and ask for a MyHouse Youth Advisory Board Member.