BUTTE — The 2019 race season is nearly over. Racers of all shapes and sizes flocked to the Alaska Raceway Park to earn crucial points during the Top Eliminator on Sunday.
"There's definitely a lot of interest," Earl Lackey, CEO of Alaska Raceway said.
This family owned racetrack continues to attract more participants each year, especially growing families passing down generational speed, according to Lackey.
"I think it's the best family sport there is," Lackey said. "There's no better way to have people working together as a family."
During the Top Eliminator, adult and children racers all hit the track to earn their points. They revved their engines to compete for top honors. Just about anything with wheels made an appearance, from muscle cars and souped up pickup trucks to motorcycles and dragsters.
Each season begins on Mother's Day. This season is well past the halfway mark. There's only four races left and the season wraps up on Labor Day weekend. Lackey said that each race could alter the top racer positions.
"Points are critical this time of year," Lackey said. "It gets pretty tight right at the end."
John Aure raced his coveted 1965 Chevrolet Chevelle that day as one of the leaders in the scoreboard. He bought his blue beloved three years ago and spent a month-and-a-half rebuilding it. He said the engine is custom built and pushes 625 horsepower.
"It's pretty much a '65 Chevelle shell, pretty much a racecar underneath it," Aure said.
Racers are divided into multiple brackets based on their vehicle class and engine capability. Aure said that it's essentially "handicap racing."
He said that after the qualifying round, racers are assigned to brackets based on their reaction time and how their car runs.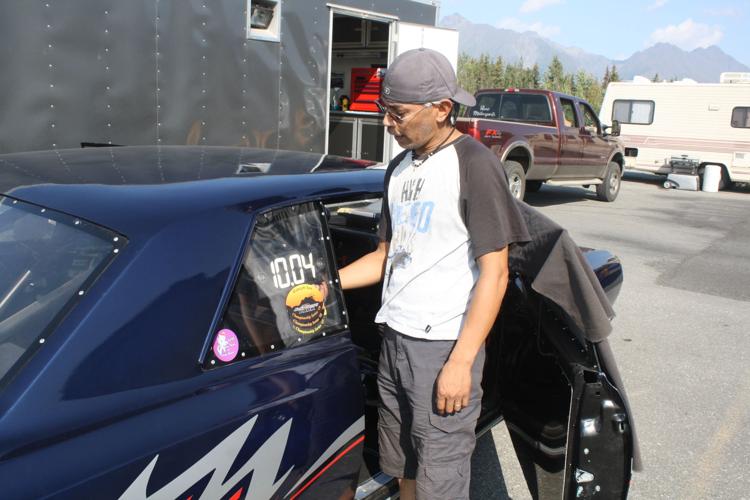 "So you don't have to have something high horsepower to race by no means," Aure said. "The biggest key is trying to keep your number the same. If you don't pick the right number of what the car runs down the track, you could lose. You could go too fast or too slow and still lose."
Aure moved to Wasilla from Eagle River about 12 years ago. He said that he's been racing since high school.
"I got into racing just because back in high school, a bunch of buddies had muscle cars and we all wanted to hop them up and make them go fast," Aure said.
Aure wasn't just there for himself. Racing is a family endeavor and two of his three children sped down the track to earn points for the Jr. Dragster division. He said that's his biggest motivation for returning to the track year after year.
"I mean, I love racing but bringing the next generation is the best," Aure said.
Aure's 9-year-old daughter Isabella and 11-year-old son Benjamin both compete. He said that his 6-year-old daughter Abbagail will take up Jr. drag racing next year.
"They all kinda' grew up on the track. It's a good family sport," Aure said.
The Aure family isn't alone in this family racing lifestyle. In fact, similar stories are easy to find around the track.
"As a sport, it's come a long way," said Tara, John's wife.
The Alaska Raceway Park has a long and rich history that predates the Matanuska Susitna Borough, according to Lackey. He said that in 1964, Gov. William A. Egan opened up the track for the first time during Labor Day. Just two months later, the MSB was officially incorporated into the State of Alaska.
"We actually were a racetrack before the Borough was a borough," Lackey said.
The park has gone through several names and hands since then. Lackey and four other racers bought the track from Lee Nelson in 1994. The Lackey family eventually took sole ownership in 1998.
"Our family's been interested in racing all our lives basically and in '98 we made a decision it was time to change it from five families to one family," Lackey said.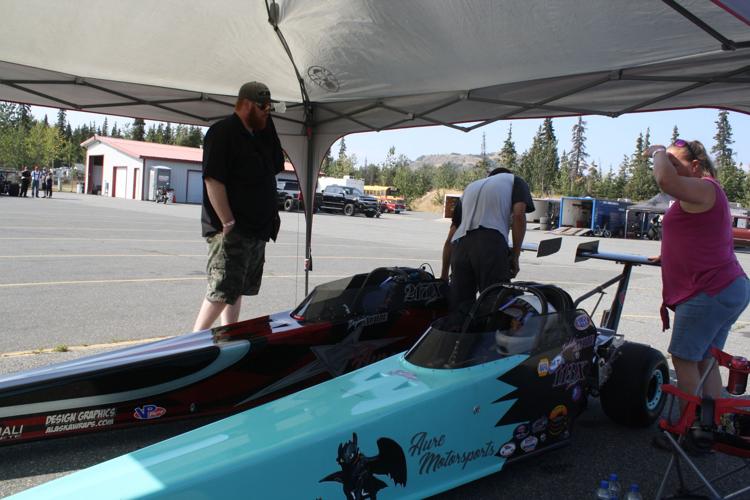 Lackey said they had some 35 racers in 1998. Over 150 racers are participating this year. Lackey said he felt encouraged by the substantial growth.
In 2016, they added NASCAR-sanctioned racing with an official oval track. He said that overall participation in the oval track has also grown over the years.
"We impact more and more people every year. The number of spectators has grown every year. The number of participants has grown every year," Lackey said.
Aure said that he's been to many race tracks in the Lower 48, from Memphis to North Carolina.
"We've been to a few different tracks and this is probably the most beautiful- best setup, good parking, it's well taken care of… I think it's the best. I think more people should come out and see it. A lot of people have forgotten that it's even hiding out here. I mean, even to come spectate, it's awesome," Aure said.